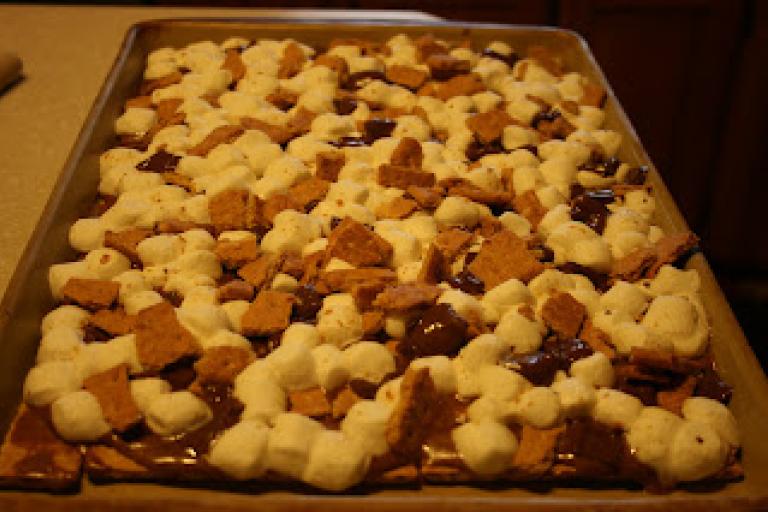 Recipe instruction
22 honey graham crackers, divided  (about 5x2-inches)
6 bars (1.55 ounces each) milk chocolate candy, coarsely chopped
1 16 oz. bag of mini marshmallows, divided
6 TBL butter
3 TBL milk
Preheat oven to 350 degrees. 
Spray nonstick spray on a jelly roll pan.  Arrange a single layer of graham crackers to cover jelly roll pan. You will need to break some of the graham crackers to fit.  Toast in oven for 3 minutes.  
Coarsely chop 2 chocolate bars, set aside.  Combine 3 cups marshmallows, 3 TBL butter and milk in microwaveable bowl.  Microwave on high for 1 minute.  Stir until smooth.  Add 2 chopped chocolate bars, stir until completely melted.  Spread mixture evenly over toasted graham crackers.
Coarsely break up remaining graham crackers, add to large bowl.   Melt 3 TBL of butter.  Toss graham crackers in butter.  Coarsely chop 4 chocolate bars, add to butter graham cracker mixture.   Add remaining marshmallows.  Lightly toss together until well mixed.   Spoon evenly over mixture in jelly roll pan.  
Bake for 8 to 10 minutes or until marshmallows are lightly brown.  Cool 15 minutes.  Cut into bars.  Serve warm or cool.  They are delicious either way.  Be prepared for them to be gone in minutes.