Lemon Glazed Lemon Bundt Cake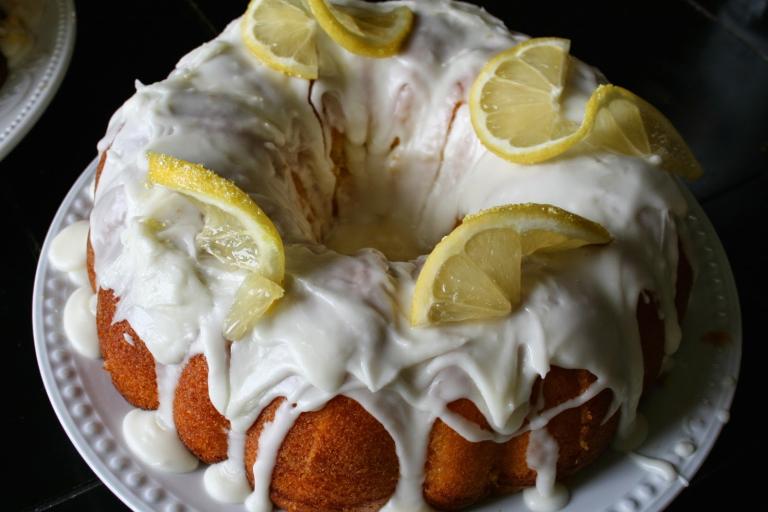 Recipe instruction
Cake
1 Lemon cake mix (I use Duncan Hines Lemon Supreme)
1 (3.4 oz) box instant lemon pudding
4 eggs
1/2 cup water
1/2 cup freshly squeezed lemon juice (about 3 lemons)
1/3 cup vegetable oil
Glaze
6 Tablespoons Butter, melted
6 Tablespoons fresh lemon juice ( 2-3 lemons)
3 cups powdered sugar
Preheat oven to 350.  Grease and flour bundt pan.  
Combine all the cake ingredients in a large bowl.  Beat medium speed with electric mixer for 2 minutes.  Pour into pan.
Make glaze by melting butter in a glass bowl in microwave for 30-45  seconds.  Let cool 2 minutes. Add powdered sugar then lemon juice.  Whisk ingredients together until smooth.  Make sure all lumps are gone.  
Bake at 350 for 45-55 minutes.  Do not over cook.  When Toothpick is inserted into cake it should come out clean.  Cool in pan 10 minutes.  Shake sides to make sure sides aren't sticking to pan, if they stick loosen with a knife.  Quickly invert cake on cooling rack.  Let sit for 5 more minutes then remove pan.  
Poke holes with a skewer all over warm cake.  Spoon 1/4 glaze over cake.  Use back of spoon to smooth glaze into the holes.  Wait a few minutes repeat process by spooning 1/4 glaze over cake.  Then when cake is almost cool spoon remaining glaze over cake.  Pour over peak so it will naturally run down sides.  If it doesn't run you can lightly use back of spoon to flatten top of glaze so it will run down sides.  
For garnish I took 4 thinly slice lemon pieces sliced them a quarter of the way on one side.  Slightly wet the rine and rolled in yellow sugar.  Then you twist the lemon and arrange on cake.