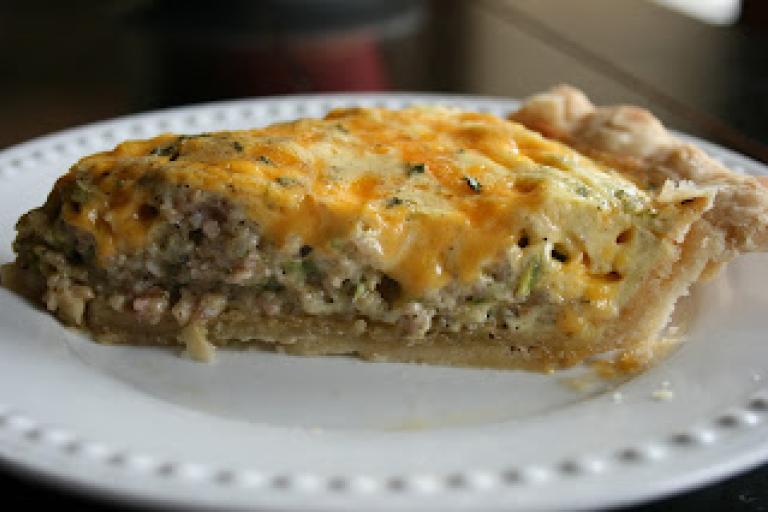 Recipe Category
Breakfast
Recipe instruction
1 single-crust pie pastry (Marie Calendar)
1 lb Jimmy Dean Italian sausage
1/4 cup onion, finely chopped
1/4 cup green bell pepper, finely chopped
4 tsp jalapeño pepper, finely chopped
1 cup shredded sharp cheddar cheese
3 eggs
1 cup heavy whipping cream
1 tsp fresh parsley, minced
1 tsp fresh basil, minced
1/4 tsp pepper
1/8 tsp salt
dash of garlic powder 
dash of cayenne pepper
Preheat oven to 450 degrees.
Roll out pie pastry to fit 9-inch pie plate.  Transfer pastry to pie plate.  Prick bottom and sides of pastry with fork times.  Cover crust edge with foil or pie guard. Bake for 8 minutes. Remove foil bake 4 minutes longer.  Cool on rack. Reduce oven temp. to 375 degrees.
Meanwhile, in a large skillet, cook the sausage, onion, green pepper and jalapeño over medium heat until meat is no longer pink.  Spoon sausage mixture over shell and sprinkle with cheese.
In a large bowl, whisk the remaining ingredients pour over cheese.  Bake at 375 for 30 to 35 minutes or until knife inserted in the center comes out clean.  Let stand for 10 minutes before cutting.
* Sometimes if I am in a time crunch I use refrigerated pre-made crusts.
*If you use other type of sausage you may have to drain it before spoon over crust.  I use Jimmy Dean because their is little fat rendered during browning.