Fantastic Rosemary Focaccia Bread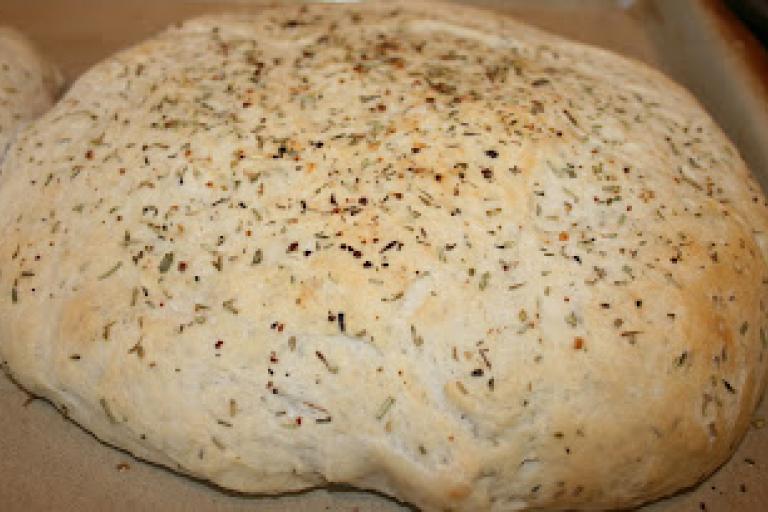 Recipe instruction
1 cup warm water (105-115 degrees F)
1TBL active yeast
1TBL sugar
2 1/2 cups bread flour
1 tsp kosher salt, plus more for sprinkling
2 TBLS Rosemary ( dried or fresh), divided
1/2 tsp dried oregano
1/4 tsp garlic powder
2 TBLS olive oil, divided
Place warm water, yeast and sugar in a small bowl.  Allow to stand for 10 minutes.  While yeast is activating, put flour, 1 tsp salt, 1 1/2 TBL of rosemary, oregano, and garlic powder in your bread maker.  Add yeast mixture once it is bubbly and activated.  Add one TBL olive oil.  Set your bread maker to normal dough setting.  
Spray a jelly roll pan with cooking spray.  When dough is ready divide in half, shape into rounded loaf, and place on jelly roll pan.  Dough will be sticky, I just use the pre-sprayed pan and drop dough in a rounded mound on pan.  Cover with plastic wrap that has been sprayed with cooking spray.  Let rise for 45-60 minutes.  
Heat oven to 375 degrees F.  With a pastry brush, brush 1 TBL olive oil over top of loaves and sprinkle remaining 1/2 TBL of rosemary.  Sprinkle with kosher salt.
Bake for 15-20 minutes or until light golden brown.  Best when served immediately.  Serve with olive oil and balsamic vinegar