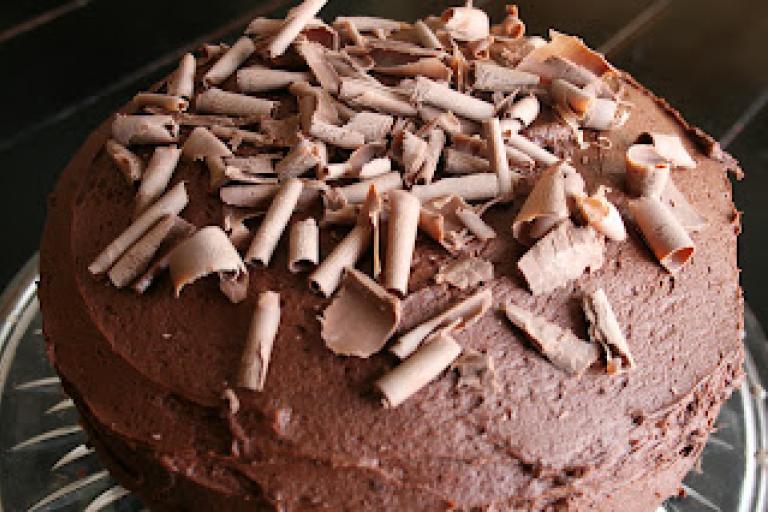 Recipe instruction
1 cup buttermilk
2 cups flour
2 cups suger
2/3 cup unsweetened cocoa
1/2 teas salt
2 eggs
1 cup vegetable oil
1 teas vanilla 
1 cup boiling water
1 teas baking soda
Preheat oven to 350 degrees.  Grease and flour 2 9-inch round cake pans.   Cut a piece of wax or parchment paper to fit the bottom of pans, , then place them in bottom of pan.   Then spray with non stick spray.  
In a large bowl, mix together all ingredients except the water and baking soda.  Mix until smooth.  In a 2 qt. bowl pour 1 cup boiling water,  then add baking soda.  It will bubble up so be careful. Then add water mixture to cake batter.  Mix well.  Batter will be thin.
Pour into prepared pans.  bake for 25 to 30 minutes of until middle is set.  Let the cakes cool in pan for 5 minutes.  Then remove from pan and place on cooling rack.  Cool completely before frosting. 
Chocolate Frosting
makes enough for 2 round cakes or 1 9x13 cake
3/4 cup butter
3 TLB butter flavored shortening
1 1/4 cup of unsweetened cocoa
12 oz  cream cheese
4 1/2 cups powdered sugar 
2 teas vanilla
Melt shortening and butter.  Whisk in cocoa and stir until smooth.  Let mixture cool to touch.  Add cream cheese and mix throughly.  Add powdered sugar and vanilla.  
1 large chocolate candy bar
Leave candy bar in warm place (80 to 85 F) until slightly softened, about 10 minutes. Using veggie peeler, shave chocolate in long strands along smooth side of chocolate. Place curls on cake immediately after frosting, so they will stick.