Chocolate Chocolate Chip Zucchini Cake with Butter Pecan Frosting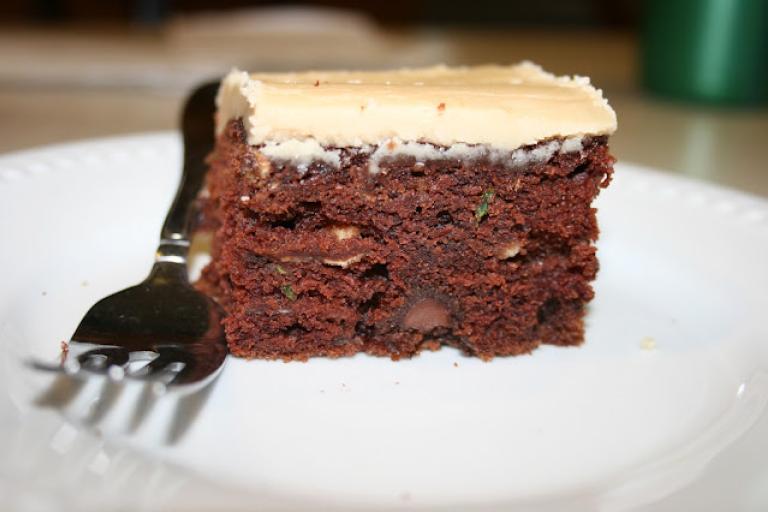 Recipe instruction
Cake
1/2 C butter
1 3/4 C sugar
1/2 C vegetable oil
2 eggs
1 tsp vanilla
1 tsp salt
1 tsp baking soda
1/2 C unsweetend cocoa
2 1/4 C flour
1/2 C buttermilk
2 C zucchini, grated
1 C chocolate chips
Preheat oven to 350.  Beat butter and sugar together until fluffy.  Add oil slowly, mix until well blended.  Add eggs and vanilla.  Mix in salt, baking soda and cocoa.  Mix well.  Mix in flour.  Add buttermilk and zucchini. Mix well. Stir in chocolate chips. Pour into greased 9" x 13" baking pan and bake about 30-35 minutes, until tested done. Cool 10 minutes and frost while warm.  
Butter Pecan Frosting
3/4 C butter
1 C brown sugar
1/3 C heavy cream
1 tsp vanilla
2 1/2 C powdered sugar
1 cup pecans (optional)
Melt butter in a small pan over low heat. Add brown sugar and cook 1 minute. Remove from heat and add cream and vanilla. Stir in powdered sugar and pecans until combined. Spread over warm cake. 
The pecans are delicious in this but it is good without them too.  Half my family doesn't like nuts so I usually frost half then add 1/2 cup pecans and frost the second half.  Great use of extra zucchinni!!